Get Inked Teen Writing Conference–in person
Saturday, 24 February 2024
8:00-4:00
Saint Mary's College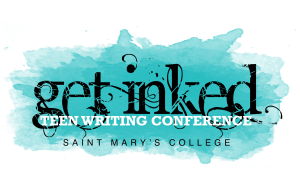 On Saturday, February 24, young writers are invited to attend the Get Inked Teen Writing Conference. Hosted by Saint Mary's College, participants will spend the day connecting with published authors in writing workshops and small-group breakout sessions. Students will experiment with style and form, share ideas, improve their writing skills, and make valuable connections with industry professionals and other young writers.
The featured authors for year's conference will be announced soon!
Limited to 70 in-person participants . Registration is $70 and includes two autographed books and a Get Inked Writer's Notebook. Lunch is provided for in-person participants.
A separate virtual conference will be March 2nd. See that event for details.
Students with financial need are invited to apply for assistance with fees through the 2023 Patricia S. & Thomas W. Hill Scholarship for Young Writers. For more information on this scholarship, contact Katherine Higgs-Coulthard at higgscou@saintmarys.edu.